Note: This is based off MendoMan's actual friends.
Suzanne is a female customer who will debut in Papa's Ice Creameria.
Her favorite holiday is Christmas because she gets the greatest gifts.
Bio
Suzanne is a nerd for video games. She is obsessed with games like Call of Duty, Mario, Minecraft, etc. She may seem cool, but actually she is quite annoying. She would go up to people's faces and blast them with video game facts and useless stuff. As a customer, she takes her food very seriously and is a closer. Gotta have a good meal before a good game!
Quotes
"Oh shut up noob!"
"This is just like a video game!"
"Ms. Winn, can I have my Nintendo DS back?"
"Jacob, what's your Roblox username?"
"I got some dankazz memes for ya!"
"Sierra, you scared me!"
"Lets end this!"
"My dream? I've always wanted to be a programmer!"
In Super Flipline Fighters
Pros
Suzanne is a midweight fighter who can turn the tables in a fight. She has unique abilities that have lots of KO potential, and combos that can become deadly.
I CANT THINK OF MUCH RIGHT NOW SO MORE IS COMING SOON
Gallery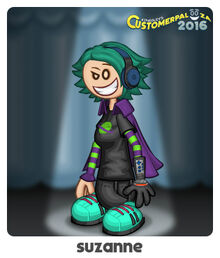 Ad blocker interference detected!
Wikia is a free-to-use site that makes money from advertising. We have a modified experience for viewers using ad blockers

Wikia is not accessible if you've made further modifications. Remove the custom ad blocker rule(s) and the page will load as expected.