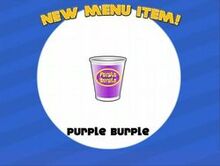 Purple Burple is a drink in Papa's Theateria. It is unlocked at Rank 19, when Savannah makes her first appearance to the theater. The badge Great Grapes is earned when you served 30 orders with this.
Purple Burple is also a last standard drink that customers can order in Papa's Brownie Mia!. The drink is unlocked on Rank 59 with DJ Jose.
Purple Burple is a standard drink you can get in Papa's Parkeria. It unlocked on Rank 9 with Buta.
Customers who order this:
Theateria:
Brownie Mia!

This list is incomplete. Please help by adding CORRECT info to finish this list. Once the info is added, remove this template.
Trivia:
Purp is a fan of Purple Burple as seen on his shirt.