Welcome to the Flipline Fan Customers Wiki!
The wiki for Flipline Fans seeking to create their own customers and games. All your ideas are welcome here. Just create a page and let everyone see your work! We welcome new users into our amazing community.
We've accumulated 2,456 pages, 3,406 images, and 63,877 edits since August 30, 2015.
Community • About the Staff • About the Wiki • Other Information
Staff Members
Fandom Customers Tournament 2018
The Fandom Customers Tournament 2018 is on schedule. The tournament is going to start in April 30 2018 00:00:00! As we get closer to the starting date, you will hear more!
Finalized Stuff:
Division Names have been finalized. The division names are: Dr. Cherry Division, Purple Burple Division, Fizzo Division, Root Beer Division, Lemon Mist Division, Diet Fizzo Division, Cotton Puffs Division, and the Hyper Green Division
Dates have been finalized! The tournament will start on April 30 and go until August 14.
The 21 Representatives from Flipline Fandom have been finalized!
The 22 Representatives from Flipline Fan Customers Wiki have been finalized!
The 21 Representatives from Papa Louie Fanon Wiki have been finalized!
The bracket has been finalized!
Currently:
LuisAngel01 is preparing the images!
Coming soon:
Tournament - Beginning April 30, 2018!
Featured Page
To see previous featured pages, go here.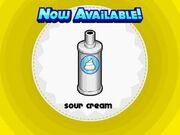 Sour Cream is a holiday exclusive dip that customers can order during Christmas in Papa's Nachoria.
Info:
Unlocked With - N/A
Unlocked On - Day 2 of Christmas
WAM Ranking
Wiki Changes
Major changes that have been made to the wiki will be listed below!
The Snowstorm.js script is no longer allowed to be used site-wide, so it was removed on January 28, 2018. Feel free to install it for your personal use, though!
Learn about the 30 Day Challenge, starting on March 1st!
The featured poll and page from February 10 - February 23 has been released!
Featured Poll
To view previous featured polls, go here.
Which Taco Mia To Go! Chips sound the tastiest?
Forum Activity
Go to the Forum for more.