Welcome
Friday, December 15, 2017 (UTC)
Week 50 of 2017
Welcome to Flipline Fan Customers Wiki
This wiki is an amazing community where you can express your ideas. You can create your own fanon customers, games, and more! We have 2,401 pages and 25 active users, and we are growing each day. We have accumulated a total of 61,578 edits since this wiki was founded on August 30, 2015.
Community • About the Staff • About the Wiki • Other Information
Staff Members
Fandom Customers Tournament 2018
The Fandom Customers Tournament 2018 begins on April 30, 2018! Even though we are still far away from the starting date, there is a lot of planning that needs to be done! Check back here often for tournament updates!
Finalized Stuff:
Division Names have been finalized. The division names are: Dr. Cherry Division, Purple Burple Division, Fizzo Division, Root Beer Division, Lemon Mist Division, Diet Fizzo Division, Cotton Puffs Division, and the Hyper Green Division
Dates have been finalized! The tournament will start on April 30 and go until August 14.
The 21 Representatives from Flipline Fandom have been finalized!
The 22 Representatives from Flipline Fan Customers Wiki have been finalized!
Currently:
Coming soon:
PLFW Tournament Nominations - Beginning December 9, 2017
Featured Page
For previous featured pages, go
here
, and to nominate a page to be featured, go
here
.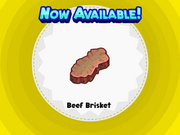 Beef Brisket is a holiday exclusive ingredient that customers can order during Starlight Jubilee in Papa's Sushiria Deluxe.
Info:
Unlocked On - Day 2 of Starlight Jubilee
Featured Poll
To view previous featured polls, go here.
Which type of pepper sounds the most appetizing?
Wiki WAM Ranking
Forum Activity
Go to the Forum for more.
Ad blocker interference detected!
Wikia is a free-to-use site that makes money from advertising. We have a modified experience for viewers using ad blockers

Wikia is not accessible if you've made further modifications. Remove the custom ad blocker rule(s) and the page will load as expected.