This page displays all of the pages featured on the home page. The featured page will change every 2 weeks, on the same date as the polls. The current page is at the top, while older ones fall near the bottom. Pages are only selected to be featured if they have an image, and they are selected by using the "Random page" button.
Rosetta: June 16 - June 30, 2017
Edit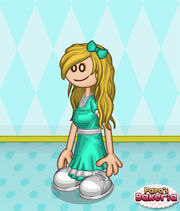 Rosetta is a female customer created by Yoshi0001 and first appears in Papa's Cookieria.

Info:
Ad blocker interference detected!
Wikia is a free-to-use site that makes money from advertising. We have a modified experience for viewers using ad blockers

Wikia is not accessible if you've made further modifications. Remove the custom ad blocker rule(s) and the page will load as expected.