Emma is a female customer created by Yoshi0001.
Items unlocked with her
Orders
Papa's Cookieria
Easter Egg Batter (Yum n M Batter in other holidays)
Purple Frosting
Bunny Cookie Bits (Yum n Ms in other holidays)
White Chocolate Bits
Papa's Magicalria
Girl Pellet
Skinner Bottle
Lipstick Solvent
Ribbon Rose Headbands Powder
Normal Bangs Style
Double P color 
Heart Style Cane 
Holiday (Easter):
Girl Pellet
Skinner Bottle
Lipstick Solvent
Double Bun Style
Normal Bangs Style
Garden Color 
Lily Sprinkle
Other Outfits
Spy
Emma is one of the main characters in Spy. Because she is Ursula's sister, she gets a new look.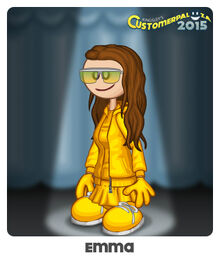 Ad blocker interference detected!
Wikia is a free-to-use site that makes money from advertising. We have a modified experience for viewers using ad blockers

Wikia is not accessible if you've made further modifications. Remove the custom ad blocker rule(s) and the page will load as expected.