Chorizo Sausage is a pourable meat in Papa's Nachoria. It is unlocked with Mackenzie on Rank 20.
Chorizo Sausage is a holiday exclusive filling/topping that customers can order during Cinco De Mayo in Papa's Sushiria Deluxe. The filling/topping is unlocked on Day 2 of Cinco De Mayo.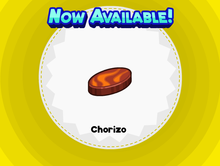 Customers Who Order This:

This list is incomplete, please help by adding CORRECT info to finish this list and remove this template box.