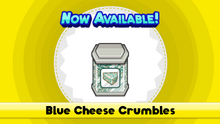 Blue Cheese is a topping in Papa's Saladeria. It is unlocked from the Start.
Blue Cheese is a standard topping that customers can order in Papa's Hamburgeria. It is unlocked on Rank 35 with Vincent.
Blue Cheese Crumbles is a holiday exclusive shaker you can get during Easter on Papa's Falafelia. It's unlocked on Rank 28.
Customers who order this: